Regular price
$ 169.00 USD
Regular price
Sale price
$ 169.00 USD
Unit price
per
Sale
Sold out
* What is Open Box?
Are you looking for a safe, legal, convenient travel car seat, secondary seat for carpools or for everyday use? The RideSafer vest is the certified, wearable child restraint.
Lightweight, portable and convenient when traveling with kids. It can fit in your child's backpack).

Crash Tested and Safety Certified. RideSafer meets or exceeds Federal standards in FMVSS 21.

Vest comes with tether strap, crotch strap and carry bag.
(scroll for more details)
Free 2-4 Day Shipping on featured products
Payment Options for your convenience
Want to buy using your Amazon Prime?
Free returns during 15-day trial period
View RideSafer Crash Test Videos
Share
View full details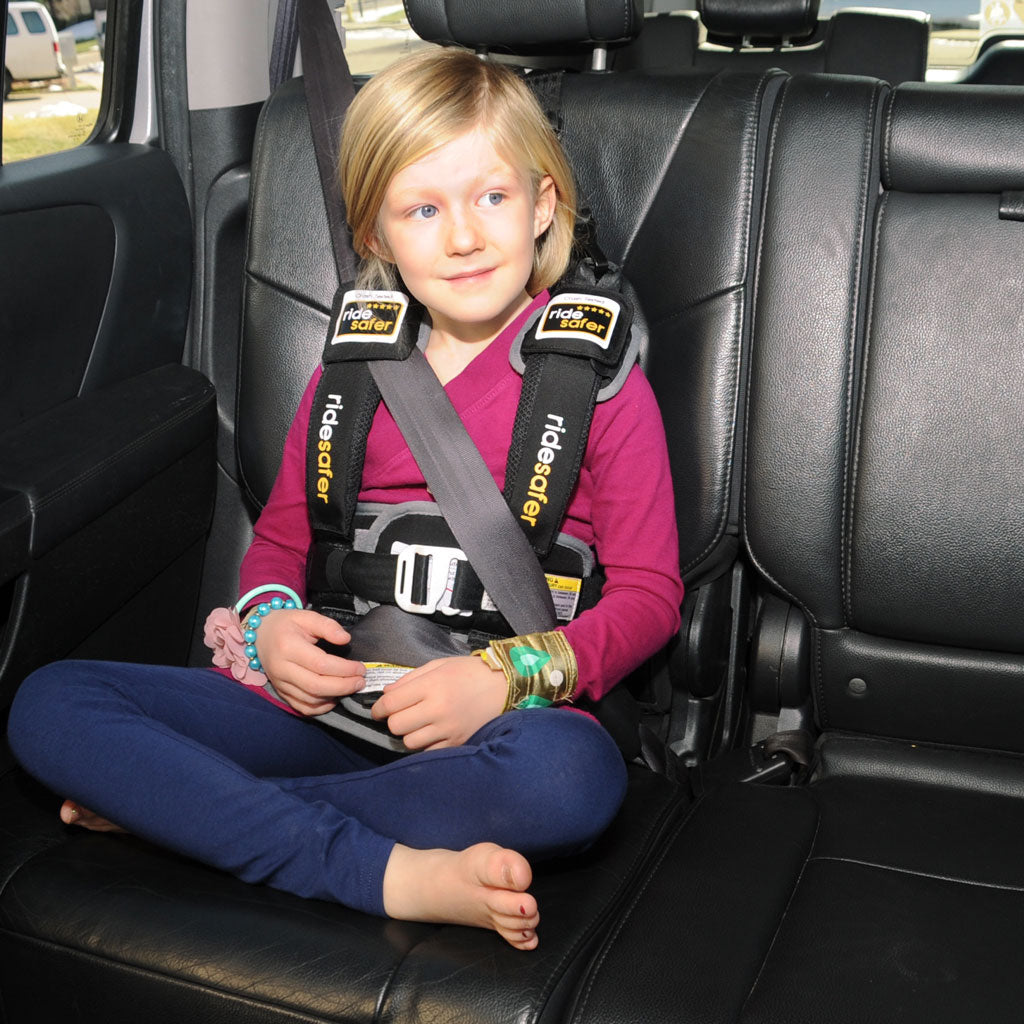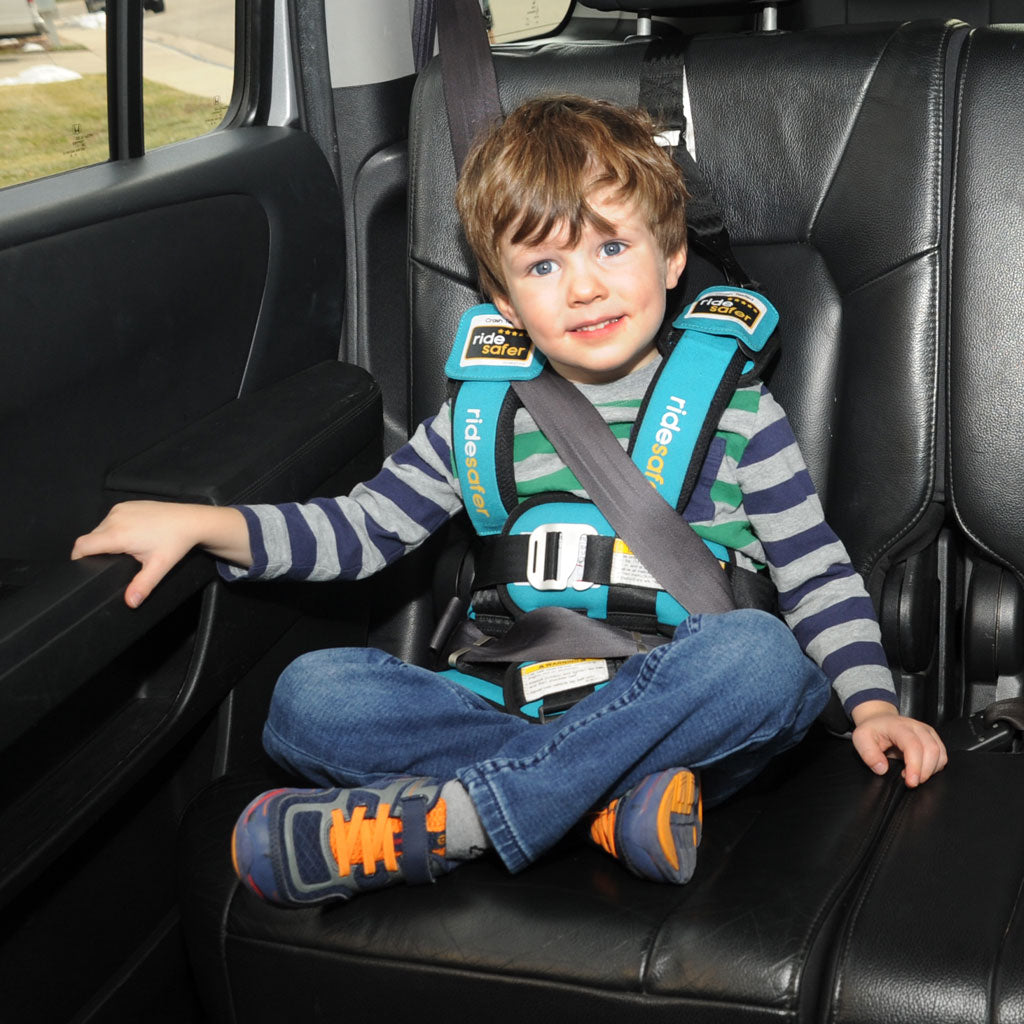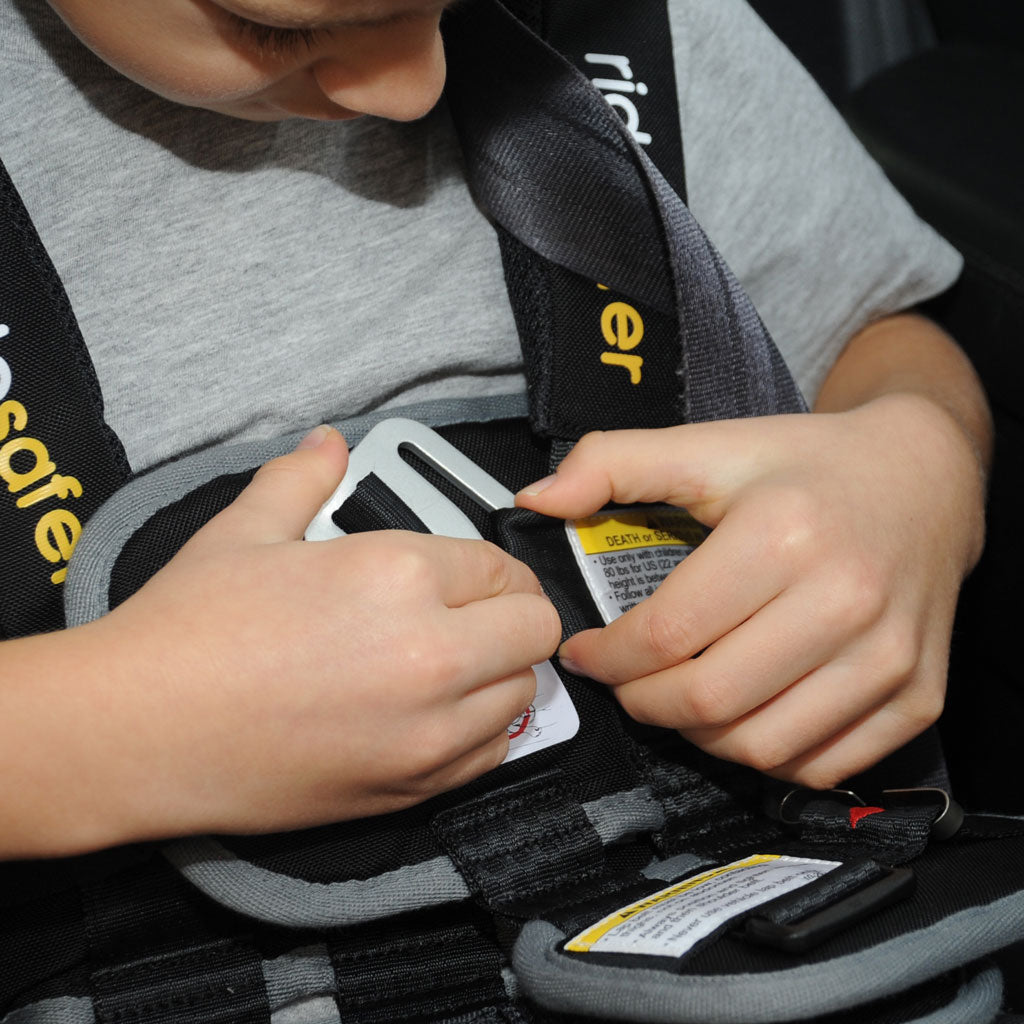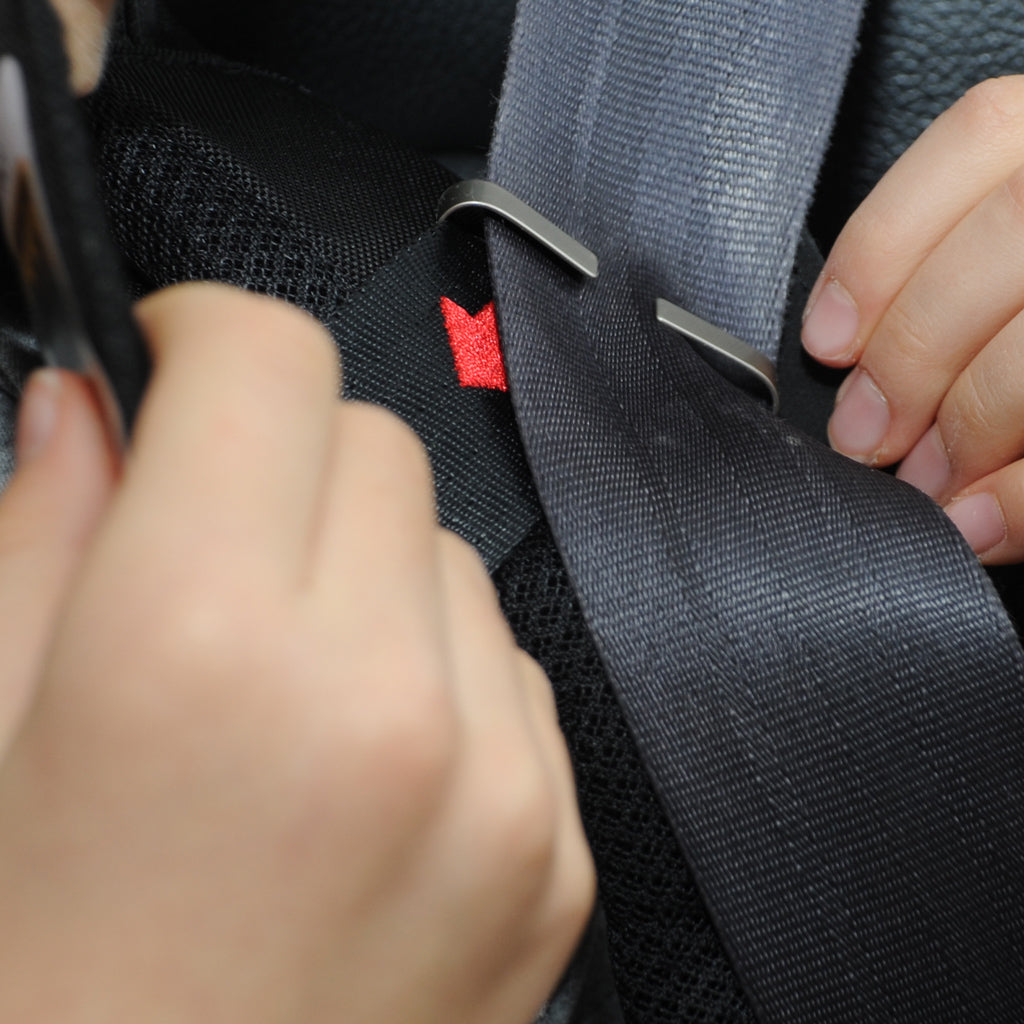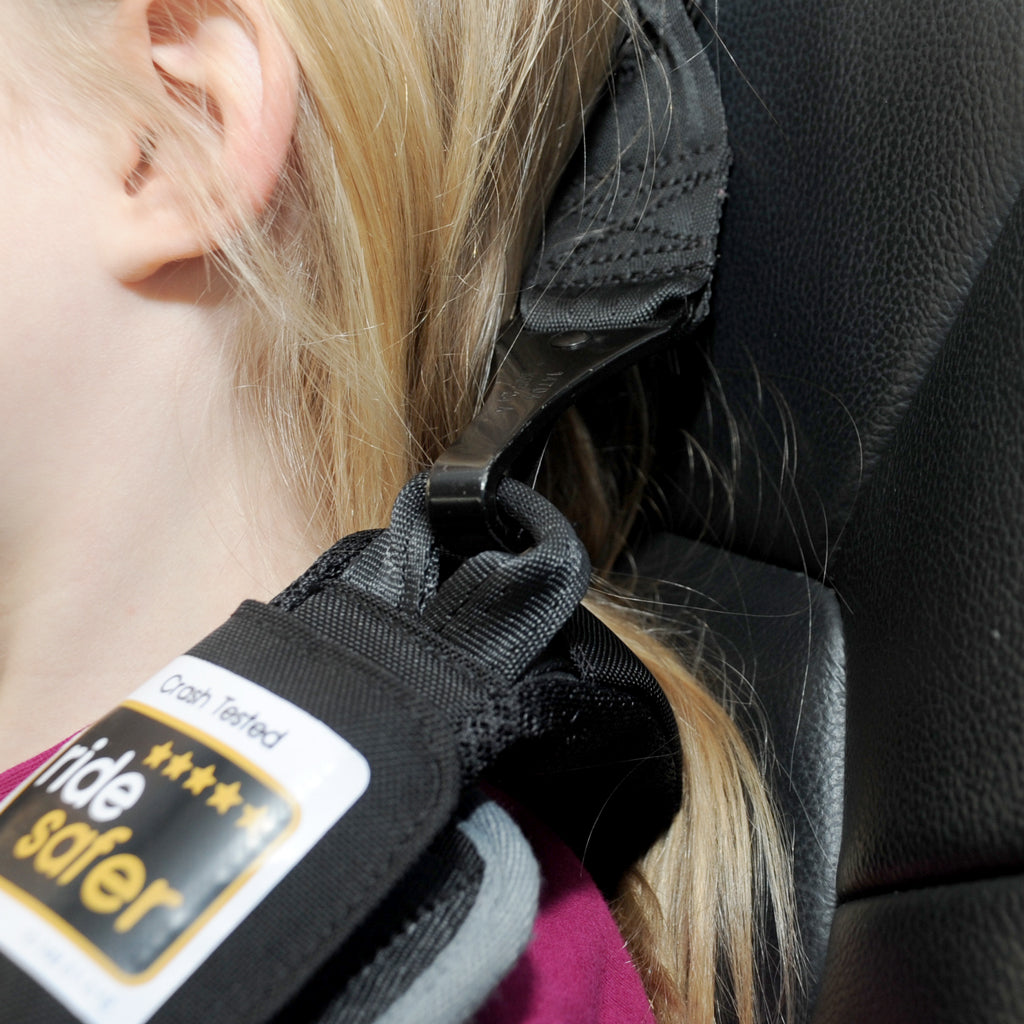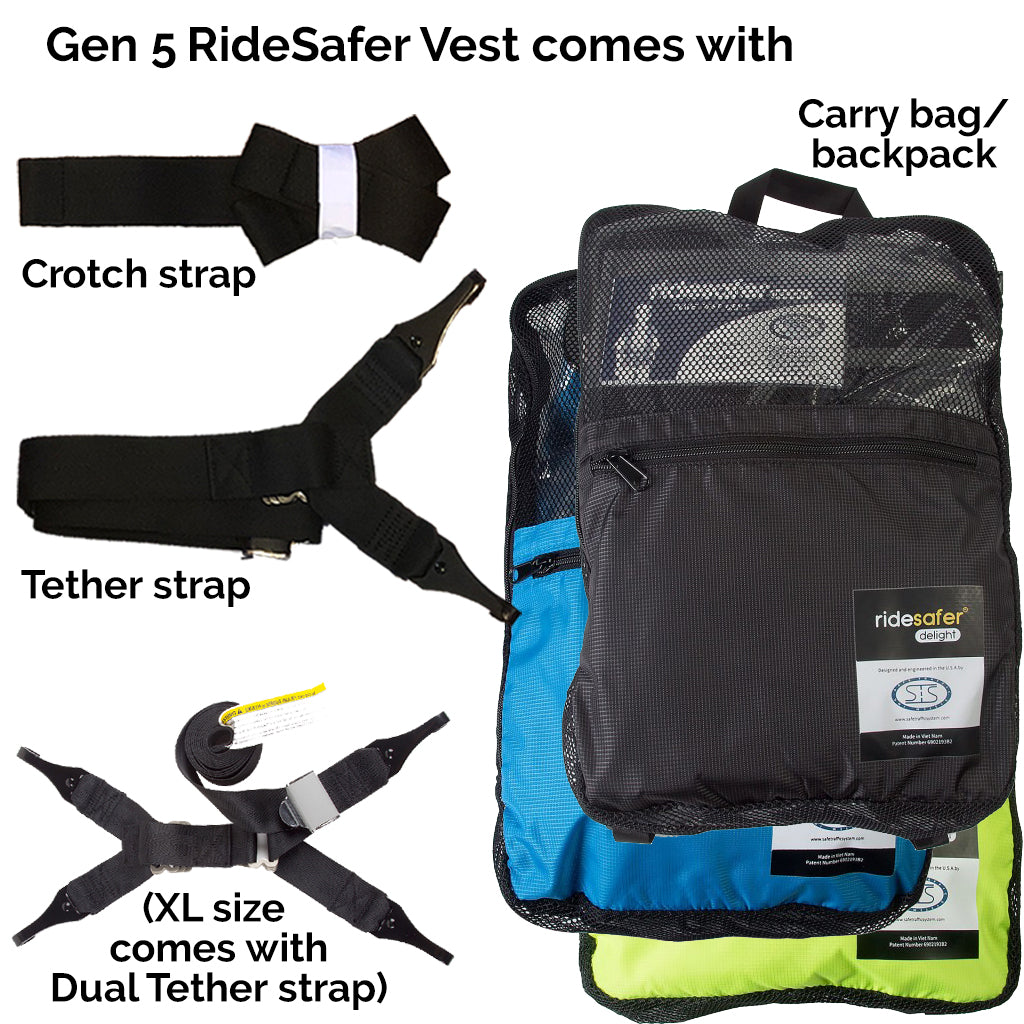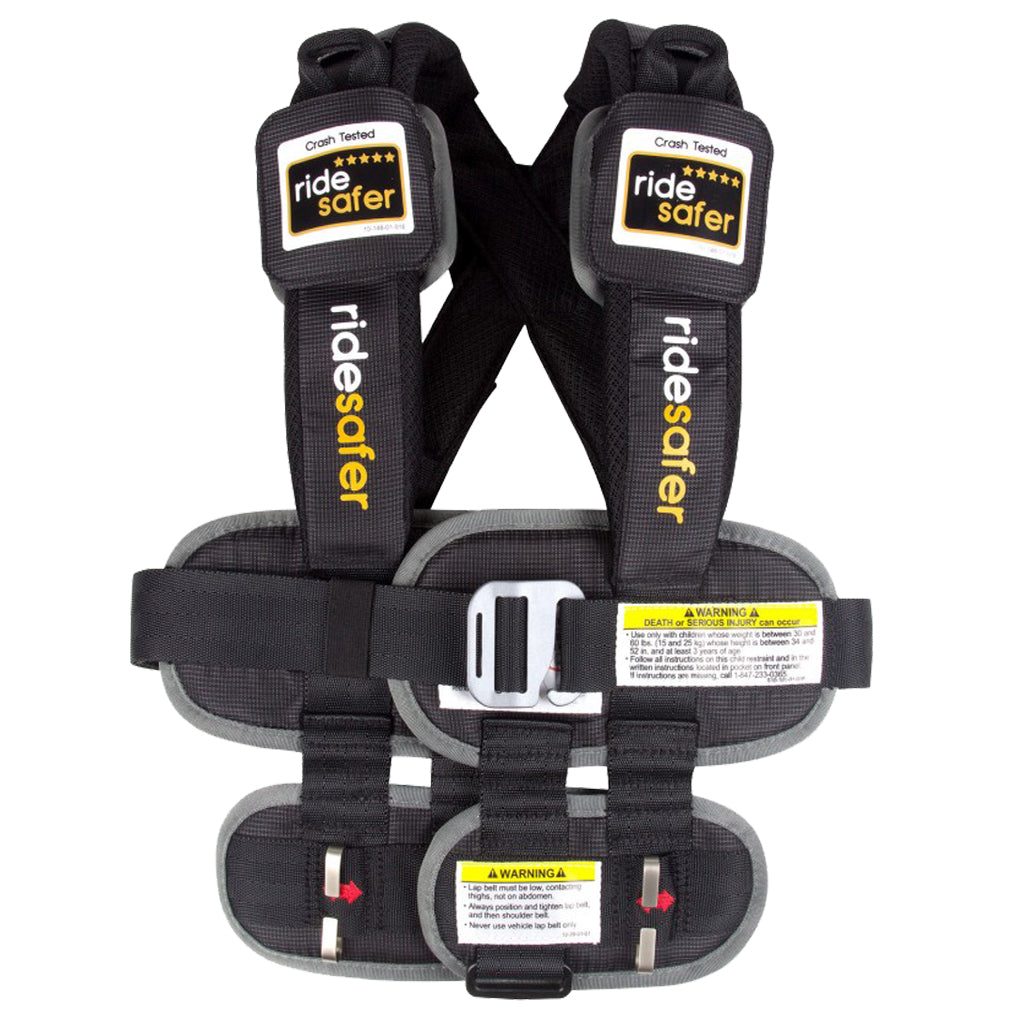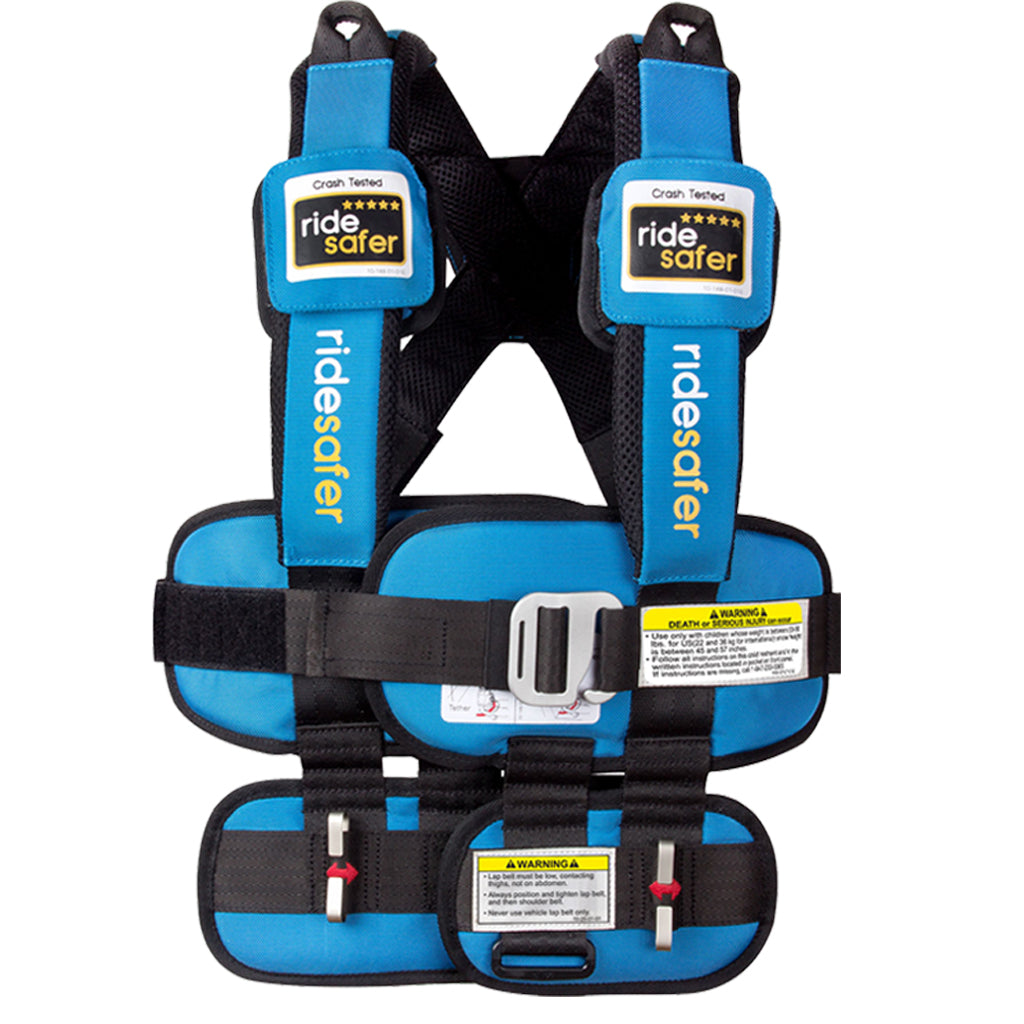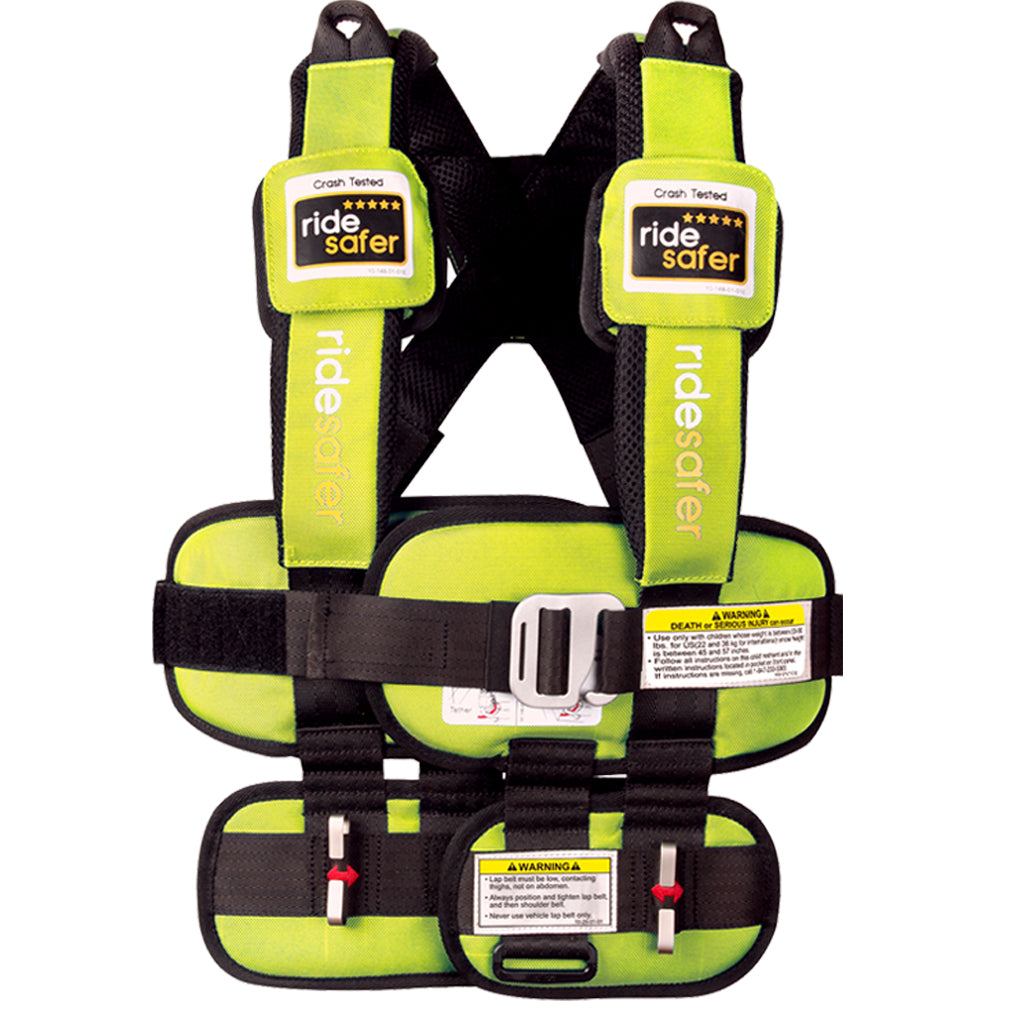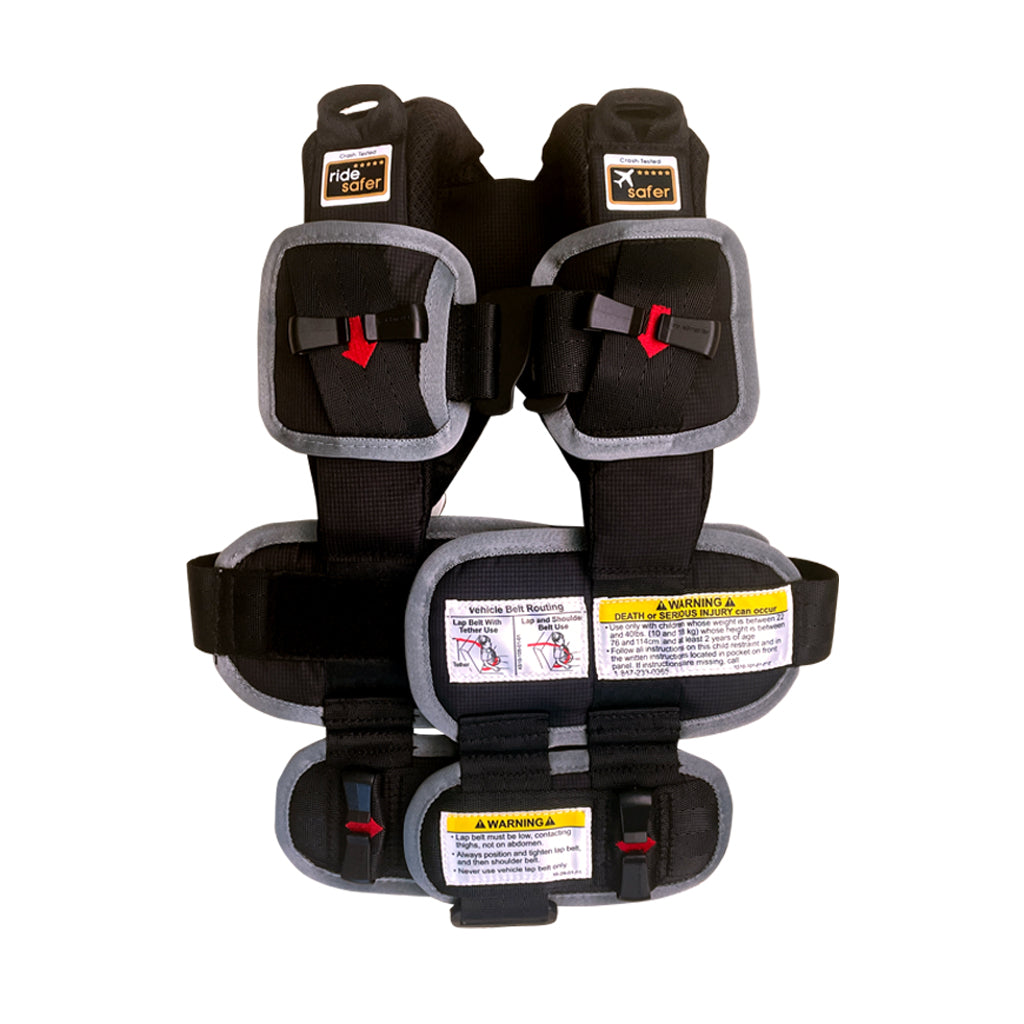 *Open Box
Open Box items are discounted as they are products which were returned unused but perhaps missing some packaging materials. All Open Box items are hand inspected in our office to make sure they have all necessary parts. No Returns on discounted Open Box items.
RideSafer Crash Test Videos
For comparison: Booster seat crash test
Side view of the RideSafer crash test
Top view of the RideSafer crash test
Additional RideSafer Travel Vest Information
• Easy to put on and use correctly every time

• Lightweight to carry when traveling with children

• Safety and convenience in taxis or ride shares

• A convenient option to switching car seats for carpools or multiple cars; only need 1 vest per child NOT 1 car seat per vehicle per child.

• Increased safety and comfort by allowing the child sit further back and lower on the more comfortable vehicle seat.

• A unique, 3-clip design positions the car's seat belt comfortably and correctly with shoulder tether for consistent sitting position and increased security (tether is recommended for kids at least up to 5 years old; tether is required if using vest with lap-only belt).

• Adjustable straps allow for growth (up to the next size).

• Padding absorbs and dissipates crash energy from seat belt.

• Neck pillow sold separately. No longer included with vest.
RideSafer is the innovative, wearable child restraint that is easy-to-use, easy-to-carry & legal!
Extra Small size RideSafer Travel Vest: For this age of child, rear-facing is the safest option. We would only recommend using an XS RideSafer vest for special situations such as for travel or taxis/ride shares. Ideally an adult will sit next to the child to help keep the child in proper position. (The XS is designed for use by very slim 2-year-olds or very slim 3- to, maybe, 4-year-old children. Most 3- and 4-year-olds will fit best in a small size vest.)
Fit 3 in a Row!
Best of all, RideSafer allows parents to easily fit three children in the back seat, side by side, with no crowding — and no complaining! No need to buy an expensive new car just to accommodate your car seats; RideSafer's slim profile keeps kids safe and comfortable.
Better than a Booster
RideSafer is the safe alternative to a traditional booster car seat! The RideSafer vest can be tethered to your car for optimum upper body restraint and our unique, 3-clip design positions and secures the seat belt exactly where it needs to be for each specific child—across the lap, not the waist, protecting vital internal organs, and across the shoulders, not the neck, eliminating uncomfortable rubbing and dangerous 'sneaky slipping' of the shoulder harness behind the child.
The RideSafer padded vest also disperses crash energy across a larger area of the child's chest than the standard 2" seatbelt and keeps the child's center of mass lower and further back in the seat than a traditional toddler car seat, which has proven safer in the event of an accident.
And, while car seats are installed incorrectly 3 out of every 4 times, RideSafer's easy, intuitive installation eliminates the risk of incorrect usage when moving from car to car, making RideSafer the safer choice.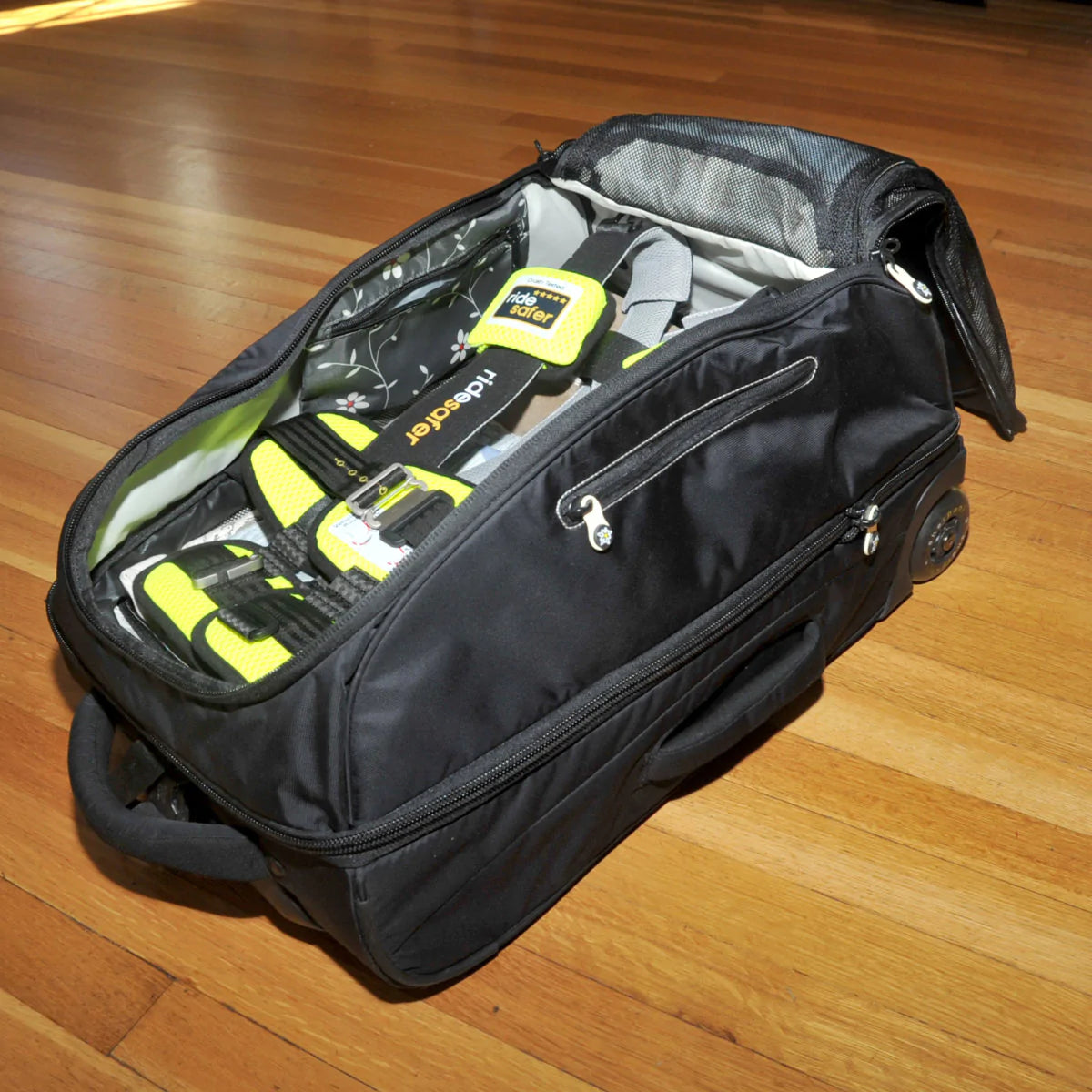 Portable and Packable
No more juggling heavy, cumbersome car seats and boosters—or worse, going without a car seat when traveling! RideSafer is your safe, portable travel car seat solution. Small enough to fit in a backpack or suitcase, RideSafer is a great on-the-go solution for kids in boosters and forward-facing 5-point harness seats.
A RideSafer vest makes it easier to justify bringing along a child restraint for the few taxi rides a family needs to take to their destination. Even at a resort destination like Disney World or a cruise, you need a proper child restraint for the ride between the resort and the airport to keep your child safe.
Since the RideSafer Travel Vest is easy to install in all cars, it takes away the worry of not being able to correctly install an unknown car seat in an unknown car; a challenge when renting a car seat on your family vacation. Not to mention, you know where it's been. Parents often report about the dirty car seat rental car companies offer.
Safety Tested, Certified and Legal!
The RideSafer travel vest is designed for children ages 2 and up and meets or exceeds all crash test requirements and Federal Motor Vehicle Safety Standards for harness restraints (FMVSS213). In fact, the RideSafer consistently tests well below—sometimes by half or more!— the standard safety allowances.
FMVSS 213 is the federal standard which sets the performance criteria for child restraints. It requires that manufacturers measure crash energy at several different locations on an instrumented crash test dummy.
The RideSafer is tested as a harness as prescribed by FMVSS 213.
What Car Seat Challenges Does the RideSafer Solve?
Beware of counterfeit products
The manufacturer, Safe Traffic System Inc., is aware that harnesses that look similar to the RideSafer Travel Vest are available and can be purchased in many countries worldwide. We cannot attest to the safety of any product that is not labeled as "RideSafer" brand and manufactured by Safe Traffic System, Inc., Franklin Park, IL. If you come across what looks like a RideSafer and wonder if it is real or fake, please feel free to email STS pictures and information. They can confirm if it is the original RideSafer.
*Open Box
Open Box items are discounted as they are products which were returned unused but perhaps missing some packaging materials. All Open Box items are hand inspected in our office to make sure they have all necessary parts. No Returns on discounted Open Box items.